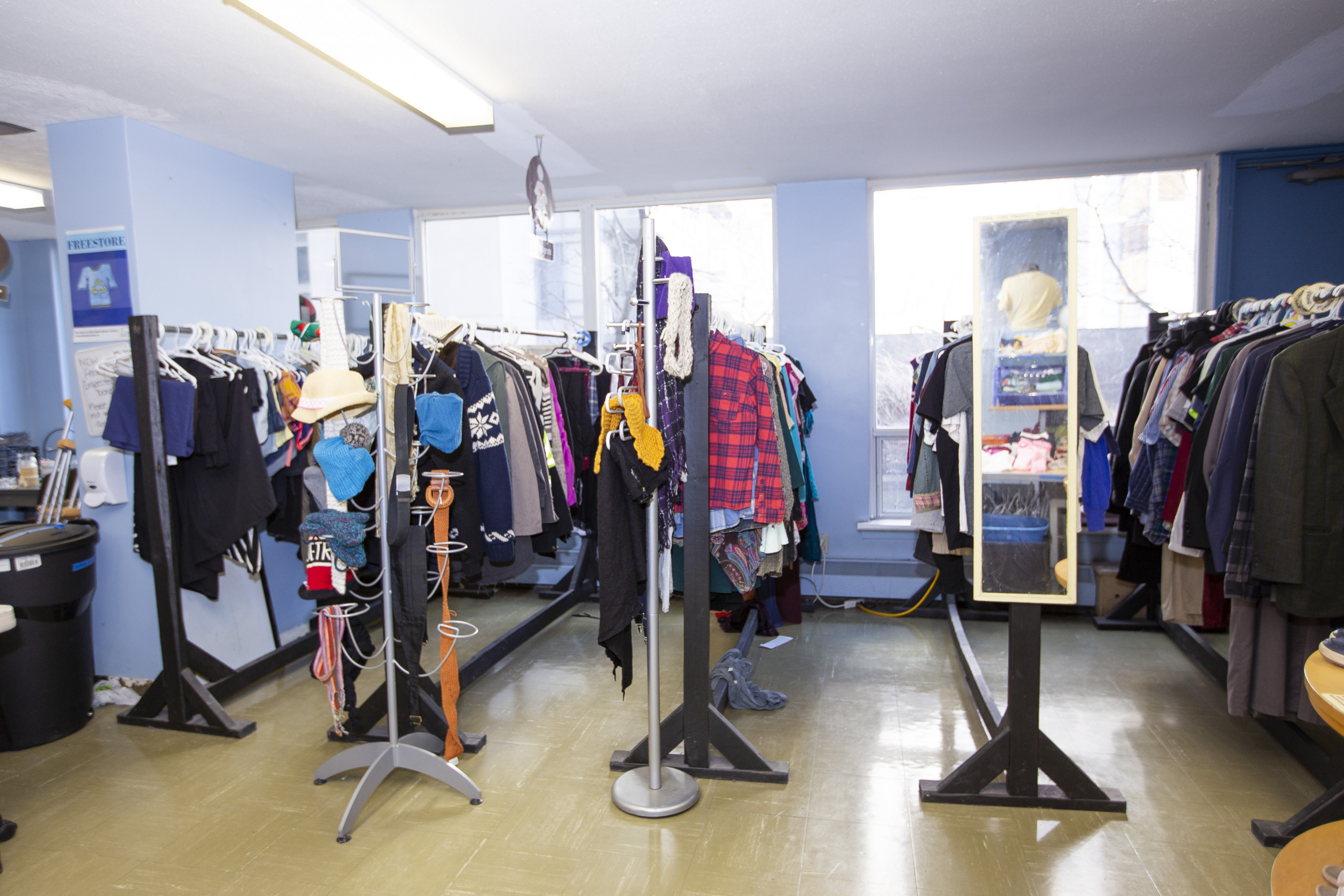 The Free Store
video tour
Check Out UFH's Free Thrift Store
The Free store works entirely on donations. Residents drop off items that have been gently used and clean. They are then sorted by Community & Recreation staff and put on display in the Free Store and then, when the store is open, residents come and pick out what they would like for free. All residents are welcome to shop and/or donate.
Because of the Free Store, 5-10 garbage bags are diverted from landfill every day!
Location
The Free Store is located on the 3rd floor of 30 Charles St. West. When open, the area is monitored by security staff and the Free Store is always staffed. Residents living in both 30 and 35 Charles St. W. are welcome to use the service.
Hours
Updated as of May 2, 2022
Donating
The Free Store encourages resident donations during the day to our location. We have a donation bin in the hallway that can fit many donations. For the most part, we accept any good-quality, clean and small item or clothing. As a reference, here are some items we seek.
AIR CONDITIONERS (small sizes)
ARTS & CRAFTS
BABY CRIBS
BACKPACKS & PURSES (like new only)
BOOKS (no course readers)
CASSETTES, CD's & Records
CHAIRS (small sizes)
CLOTHING (all types)
COMPUTERS & LAPTOPS
CURTAINS
DISHES (like new only)
EXERCISE EQUIPMENT
IRONS
JEWELLERY
LAMPS
MAGAZINES (recent only)
MICROWAVES
SHOES (like new only)
SILVERWARE
SPORTING GOODS
TOOLS
TOYS ~ it's small, like-new & clean ~
FABRIC & THREAD
Items that are NOT Accepted
Donating items is a very environmentally-friendly way of giving to others. However if your items are dirty, broken, damaged or large they cannot be accepted. The following are items that are not accepted as donations. They should be put in garbage bags and thrown in the garbage.

Do Not Donate:
APPLIANCES
BOX SPRINGS
BUILDING MATERIALS
CAR BATTERIES
CAR SEATS
CEILING LIGHT FIXTURES
COIL SPRINGS
COURSE READERS
DIAPERS
ENCYCLOPEDIAS
FOOD
FUTONS
HAZARDOUS MATERIALS
MATTRESSES
NEWSPAPERS
PAINT
PUZZLES (unless sealed)
RUGS, CARPETS OR PADDING
SOFAS OR COUCHES
SOILED ITEMS
SPACE HEATERS
TIRES
UNDERWEAR
WEIGHTS SETS ~ not dirty, broken or garbage
Shopping
The Free Store is operated by the Residence Life staff, Community and Recreation. All residents are welcome. Please do not give access to anyone from outside the building. This is a resident resource.
Aside from Free Store property you're welcome to take anything. If you are unsure about whether something is Free Store property, please ask the staff member on-duty.
Children are welcome, and we maintain a good stock of toys for them to take home if they wish. Please always watch your kids as our staff cannot take responsibility for children in the Free Store.
We work hard to keep the Free Store as clean and organized as possible. Please help us and your fellow residents by tidying up any mess you make. We welcome your help in other ways too. If you see a need please talk to us. Your contributions will benefit your community.
If you enter the store with food or drink, you may be asked to leave. This is a pest control precaution.
The Free Store was started by a group of residents many years ago. In the 1990s, the Tenant's Association got involved to attract and organize a volunteer team to manage the incredible and constant flow of donated items. In 2004, the Tenants' Association requested that the popular service be taken over formally by Community & Recreation. Community & Recreation staff gladly agreed and have been running the operations since 2005. It remains one of the most popular services at the residence.
Related