Charles Street West
Appliances
Stove and Fridge
Your apartment is unfurnished, but includes a kitchen stove and refrigerator. Both major appliances require some regular cleaning and maintenance for which you, the resident, are responsible. Your oven should be cleaned regularly with a cleaner as described in the "Canadian Green Consumer Guide" book or a commercial oven cleaner. If grease splatters on the walls or ceiling, please clean it! Grease and other food particles attract pests, and can result in fires or smoke. Stovetop elements and rings are removable and can be cleaned with oven cleaner or baking soda and vinegar.
Many refrigerators in these buildings are not frost-free models. This means that you need to defrost your fridge every 6-12 months to ensure that it continues to operate properly.
How to Defrost Your Fridge
Turn the thermostat to the OFF position.
Remove all the contents of the fridge and freezer.
Leave the fridge door open so that the frost can melt. If you are short on time, or have perishable goods, you can place a METAL bowl or pot of hot water in the freezer to speed the defrost process.
Do not ever use a sharp object to crack the ice – if you puncture the wall of the freezer you will be held responsible for its replacement, which can be very costly.
Air Conditioners
All window mounted air conditioners must be installed and removed through the Residence Office at a cost paid for by residents. Please contact the Residence Office to book an appointment – this is required to ensure safe, secure and consistent installation.

It is strictly prohibited to install or remove an air conditioner yourself – this is in your lease and is Not Negotiable.
Please also note that:
You are permitted to have only one air conditioner in your apartment
Air conditioners can only be installed in living rooms
The maximum size is 21.5″ wide x 17″ high
The voltage must be 120V. The maximum cooling capacity is 6,000-10,000 BTU
Do not purchase a U shape style air conditioner as they will not work in our slider style windows
As outdoor temperatures begin to get warmer, please schedule your appointment to ensure your air conditioner is installed and ready to go. We are not responsible for the condition of your air conditioner unit; therefore, we advise you to ensure the unit is in good operating condition before the window installation date.

Floor standing portable air-conditioner units (self-evaporating only) are permitted in this residence. These units do not need to be installed by the residence contractor: it is the responsibility of the residence to ensure the proper installation and maintenance of this unit as per the manufacturer's instructions. Only one portable air conditioner is allowed per unit. There are more details regarding this in the Residence Handbook.
The safety of our residents and community members is extremely important to us. Remember that breaking the terms of your lease may lead to eviction.
If you have questions about the cost of an installation or removal or have questions about the procedure, please contact the Residence Office by phone at 416-978-8304 or in person.
Prohibited Appliances
Your lease states that you are STRICTLY prohibited from having, installing and/or using any these of these appliances:
Dishwashers
Washing machines
Dryers
Bidets
Each unit's plumbing is connected to several others, meaning any drain clog, or change in demand of the water supply will affect others in your building. When you use portable appliances you negatively impact every unit on your riser.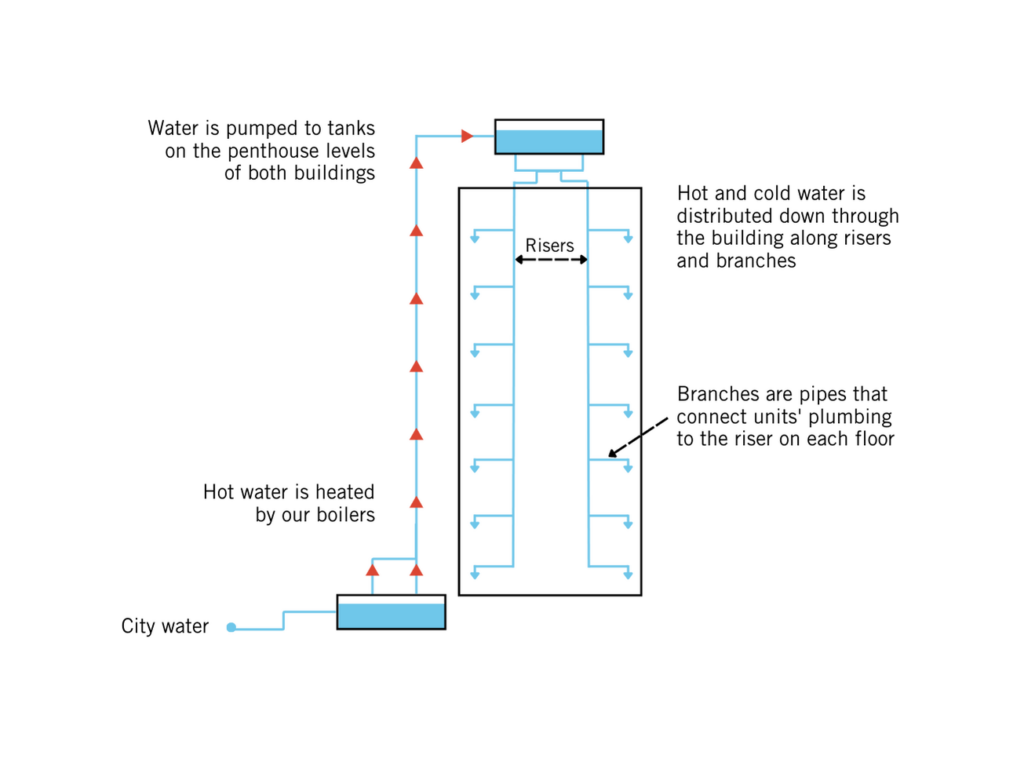 Negative Effects of Prohibited Appliances

Floods
Floods and sink overflow in neighbouring units.

Electrical
Loss
Electrical loss and damages due to the appliances' large electrical load capacity.
Extreme
Temperatures
No hot or cold water in units on the same riser or extremely hot or freezing water in neighbouring units.
Residents are responsible for paying repair costs that may be needed if damage occurs!
If you are found to be storing one of these appliances in your apartment, you will need to remove it immediately, with your unit being subject to inspection to confirm its removal. Repeated presence or use of appliances will result in eviction for interfering with others' enjoyment of their apartments and/or for causing damage to your apartment or others.
Related